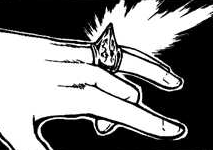 Name: Ice earth
Description:  A ring Nature ÄRM that fires shards of ice at the enemies. This can also be used to form ice around the user's fist in the form of a giant fist for punching or a long icicle for stabbing. 
Rank: Average/Rook or higher.
Magic cost: when shooting shards there can only be four, and the user won't be allowed to switch modes (ice earth types) for three post.
Weakness: Fire, the ice can also be broken.
Cost: 400 pewter